URBAN KRAWLER PACKAGE
2007-2024 Jeep Wrangler JK/JKU and JL/JLU
O|||||||O
This package describes our 2007-2018 Jeep Wrangler JK & JKU and 2018-2024 Jeep Wrangler JL & JLU options. 
Just give us a call at 480-848-8482 or email sales@doetschoffroad.com to discuss more options!
Are you looking for the best combination of parts that allows your Jeep Wrangler to be both a comfortable daily driver as well as a capable weekend off-road rig?
 Is it confusing trying to pick out all of the lift components you want or need - what height should you go, what size tire can you fit, will you need to re-gear the axles??

Do you hate shops that don't listen to your needs, that don't explain exactly what you're buying or that try to sell you parts that are more of a benefit to them than you?

What brand is best - do you choose AEV, TeraFlex, Rubicon Express, Rock Krawler, Pro Comp, Metalcloak or Rough Country??

Do you want to trust your expensive Jeep to a shop that actually drives Jeeps themselves and has been building Jeeps since 2001, including Jeeps for major automotive aftermarket manufacturers like TeraFlex, Warn, Bushwacker, Rigid Industries, Cooper Tires, Covercraft, Rugged Ridge, BOLT Lock, Grizzly Coolers and Rhino Linings to name just a few?
If you answered yes to any of these questions, then Doetsch Off-Road is your solution! We only deal with Jeep Wranglers and are THE best at what we do. Our showroom is stocked full of Jeep Wrangler parts & accessories and is affectionately called the "Jeep Candy Store"!

For a limited time, we're offering our most popular Jeep Wrangler build package, called the "Urban Krawler Package", at a special price of only $5,800 OUT THE DOOR - that's parts, supplies, labor, tax, tire/wheel mount & balance plus transfer of your OEM tire pressure monitoring sensors (TPMS), lug nuts, heavy duty spare tire carrier....EVERYTHING IS INCLUDED!!

Here's what you get in the Urban Krawler Stage 1 package:
**SUSPENSION**
- A TeraFlex 2.5" Suspension lift with shocks, which is an ultra simple performance oriented lift kit that provides amazing highway drivability with very capable off road performance. Drivability and performance are the most important factors that are engineered and built into every TeraFlex lift kit. Properly developed suspension geometry, roll center, and load tuning ensure that all factory stability controls remain functional and within the parameters that Jeep originally engineered into the vehicle. TeraFlex kits drive straight and will crawl anything, getting you there and back! This kit includes 2.5" lift coil springs, 9550 VSS shock absorbers, rear swaybar links, heavy duty rear trackbar axle bracket, bumpstop extensions and all necessary hardware (JK kit shown below).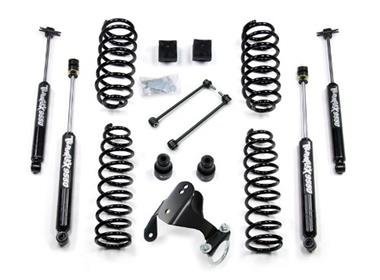 **You can also upgrade to our Stage 2 package which includes a 3" (JK) or 3.5" (JL) TeraFlex lift, front adjustable monster trackbar and control arms, by simply paying the difference. We also offer shock upgrades to brands like Falcon Shocks, Bilstein, King or Fox!*
**TIRES**
- Five 35x12.50R17 Toyo Open Country RT (All/Rugged Terrain) tires (includes a matching spare tire) which are road and trail proven. Just Google these tire and read the reviews from other Jeep owners! For off-road performance, the thick rubber construction increase puncture resistance. On the tread surface, the blocks provide additional biting edges that command lateral stability and enhance forward traction. For on-road comfort, Toyo's engineers used advanced sound analysis equipment to systematically reduce noise levels commonly associated with off-road tires for a quieter drive.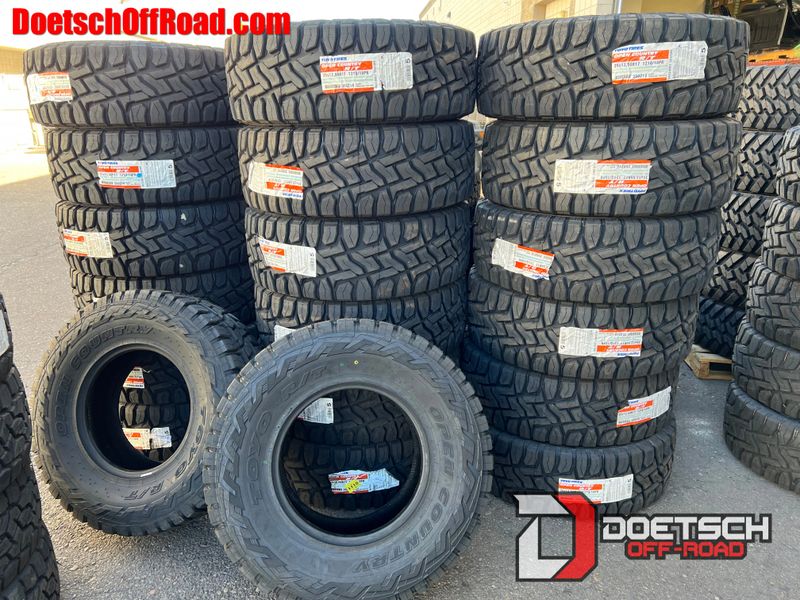 **WHEELS**

- Your choice of any five (spare included) matching 17x9 wheels from brands like KMC, XD Series, Fuel Offroad, Black Rhino, Method Race Wheels, ATX Series or Moto Metal with up to a $245 retail value! If the wheel you choose goes beyond that budget, just simply pay the discounted difference.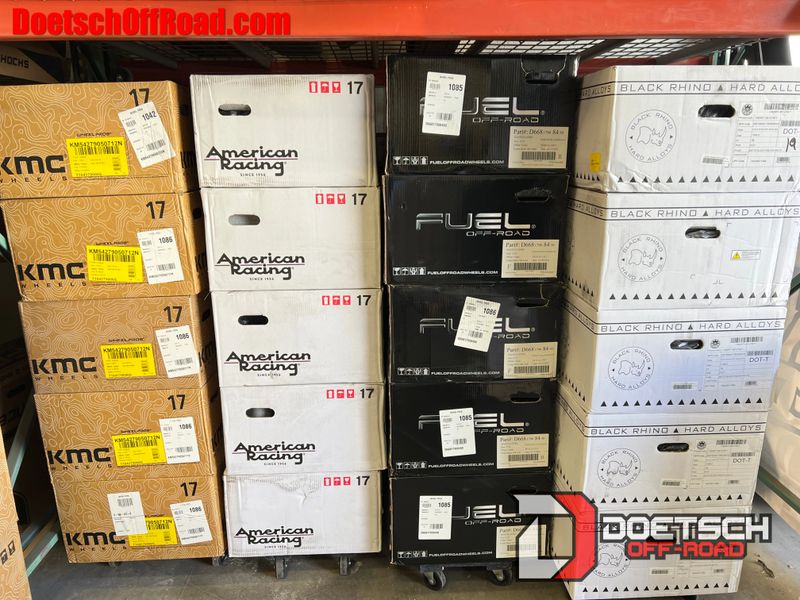 **LUG NUTS**

- You probably don't want your original nasty chrome lug nuts to clash with your brand new wheels, so we included a complete Gorilla Black Splined lug nut kit that features a total of 23 lugs and a spline key - that's enough to outfit all four tires plus your spare!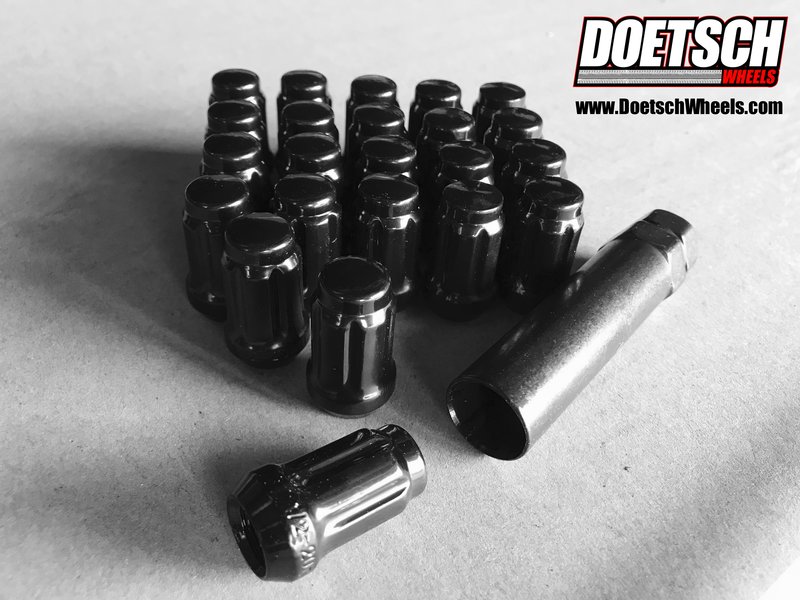 **HEAVY DUTY TIRE CARRIER**
- Don't try to run an oversized tire & wheel on the wimpy factory tire carrier and don't deal with the headaches of a bumper mounted swing away tire carrier. There's also no need to replace your factory rear bumper just yet - it's 2022 and technology has changed, so we include a body mounted Rugged Ridge Spartacus HD Tire Carrier System that even allows you to keep your OEM 3rd brake light on both the JK and JL or upgrade to a super bright LED 3rd Brake Light ring! 
This kit provides the ultimate in strength and stability for mounting your oversized wheel and tire. Functionally designed to manage the amplified force and vibrations produced during extreme off-road conditions. The precision die-cast aluminum Hinge Casting provides maximum strength without the excess weight of steel. The one-piece design maintains one-handed access to cargo area and rigidly links the Wheel Mount to the reinforced section of the rear quarter panel. This, in combination with forged steel hinge brackets and hardened steel pins, results in far superior load capacity than the factory tailgate hinges, thereby effectively reducing wear and increasing longevity. 
The Wheel Mount lifts the mounting position and incorporates depth and tilt adjustability for large diameter and wide tire options. Tested to MIL-STD-810 to simulate extended duration of vigorous off-road driving conditions. Rated for up to and including 37" wheel tire combinations. Includes adjustable third brake light bracket. Compatible with OE and most aftermarket rear bumpers.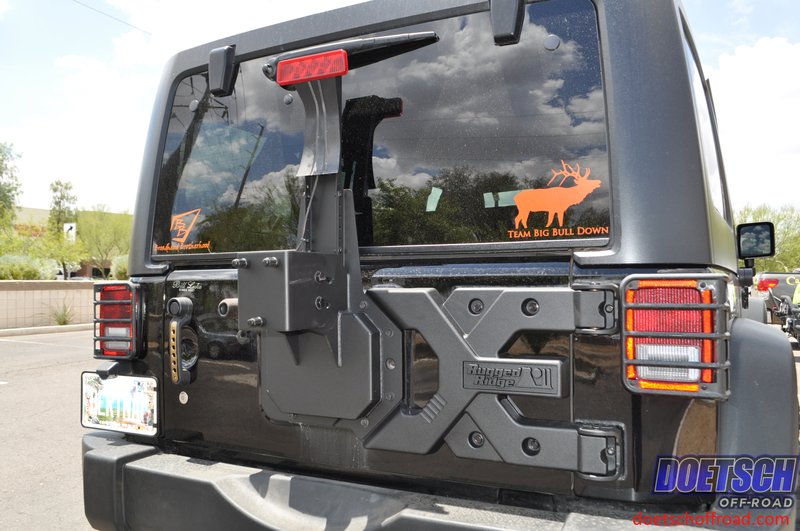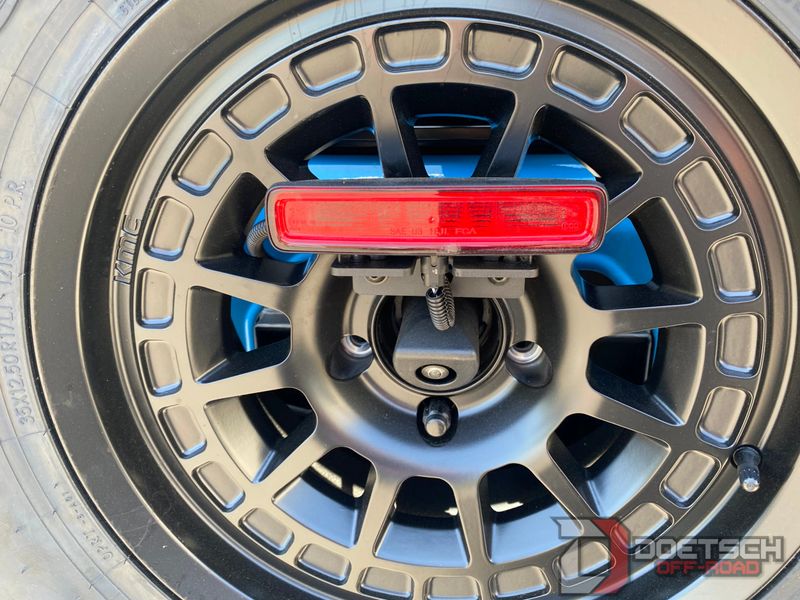 **ALL LABOR, FEES & TAXES**
- INCLUDED! All of the labor to install the lift, shocks and HD tire Carrier Kit plus mount & balance your five wheels & tires AND move over your original Tire Pressure Sensors (TPMS) to the new wheels/tires
- INCLUDED! All of the sales tax & fees (where applicable)
- INCLUDED! All of the shop supplies
WOW!!! So that's everything you need, all in one thought-out package to start the build of a capable off-road trail Jeep while still keeping the on road handling & daily drivability that you may be used to. 
Just ask - we also offer additional package accessories like steel aftermarket front AND rear bumpers from brands like Road Armor, Body Guard, Poison Spyder, JCR Offroad, Motobilt, Genright or Rugged Ridge; plastic, steel or aluminum fender flares; LED lighting from brands like Rigid Industries, KC HiLites, JW Speaker or Baja Designs; winches from Warn or Smittybilt; Electric Step Sliders from Rockslide Engineering; Roof Rack systems from Rhino Rack, and more! We can easily add anything you want to the package in order to truly customize your Jeep!
The package components listed above apply to most 2007, 2008, 2009, 2010, 2011, 2012, 2013, 2014, 2015, 2016, 2017, 2018, 2019, 2020, 2021, 2022, 2023 or 2024 Jeep Wrangler JK, JKU, JL or JLU Unlimited vehicles with original equipment packages labeled as a Sport, Sahara, Rubicon, Hard Rock, Willys Edition, Freedom Edition, Polar Edition, 10th Anniversary Rubicon, Rubicon X, Black Bear Edition, Xtreme Recon Edition, 4XE, Moab Edition and many more. We also offer similar Jeep Gladiator packages, so just call us for details!
Pics shown below are examples of the Urban Krawler Stage 1 package installed on various Jeeps, some of which have other optional accessories installed such as plus sized wheels & suspension lift kits, flat style fender flares, aftermarket bumpers, LED lighting, roof racks, exhaust systems and more! All of which we also sell and can bundle into the package for even more savings!!